Crucial Conversations at the End of Life
By Seasons | November 16, 2021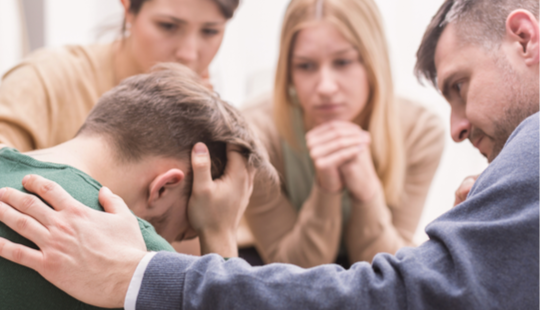 As we seek to provide care that meets the needs of our patients, residents, and families, it's not uncommon to encounter situations where we need to have difficult, emotional, and crucial conversations with patients and families.
Conversations about the options available to patients nearing the end of their life are difficult for many people to have because they can feel burdensome for all involved. These discussions can impact decisions, choices, and the time a loved one may have left. It's important to ensure that these conversations help our patients and families discover meaningful answers. clinicians engaging in these talks should strive to help those we serve fully understand their prognosis and situation so they can make the choices that are right for them.
Five Elements of a Crucial Conversation
This may be the last holiday for a patient or resident. If they are able to consume food and beverages without any challenges this holiday season, then we can enhance the quality of their care by working to help them cherish a traditional meal together.
Have a purpose

Establish trust

Turn down the noise

Reciprocate the conversation

Focus on outcomes
Practical Tips for Crucial Conversations
If you're in a situation where bad news must be conveyed, you already know to expect some degree of an emotional reaction. Being able to express empathy can make a big difference in difficult situations. Empathy is not just knowing what words to say – often it can be best demonstrated through posture and the way you interact with someone. When effectively utilized, empathy can show that you care, and are compassionate and perceptive to the needs of someone else.
Sit down to have the conversation. Sitting demonstrates that you are willing to give your time and attention.

Slow down, use silence, pause, and soften your voice. If people begin to cry, give them space and time to express their emotions through tears.

Acknowledge the emotion with an empathic and authentic response such as, "I am so sorry you are going through this.

Foster respectful conversations, and make sure that you make space to allow all individuals to express their feelings and thoughts. Remember that people from different cultures and backgrounds express their emotions and thoughts in different ways.

If there are differing opinions, ensure you understand the place of the POA (power of attorney) and that at a certain point it may be necessary to remind them that they are empowered to make the final decision.

Provide answers to questions, and endeavor to assuage worries, fears, and concerns with the knowledge and experience that you have.
Ending the Conversation
As you're ending the interaction, it's important to remember that this may be the first in a series of conversations. Do your best to ensure that you address all confusion and questions that you can. Being able to build trust in this initial conversation, and honestly sharing the knowledge that you have, can pave the way to the best possible outcomes. Try to leave the conversation with some take-a-ways, both for the family and for yourself. Takeaways might be:
The patient/family/POA needs some time to process the information you shared. You will circle back in two days to continue the conversation.

The patient/family/POA needs some more information about one of the options you offered. You will circle back with some additional resources, or refer a specialist or consultant.

Remember, hospice care consultants are available to have a conversation specifically about hospice care options with patients and families.

T

he patient/family/POA have definitively stated that option A is not an option, but option B or C remains on the table. The next time you talk, they will have reached a decision on which option they want to pursue or have a list of questions identified.
As a healthcare professional, it's important that you promote trust. By demonstrating your responsiveness, speaking openly and honestly, encouraging transparency, and actively listening, you can facilitate these conversations intentionally and be a comforting and helpful resource to those you serve.
References:
2020). Preparing for difficult conversations. Healthcare Communication Matters.

Besic, N. (2020). Difficult path to walk: Critical care nurses' lived experiences of crucial




conversations; an Australian perspective. Australian Critical Care (33) 1.

Brooks, L., Manias, E. & Bloomer, M. (2019). Culturally sensitive communication in




healthcare: A concept analysis. Australian College of Nursing (26) 3. pp. 383-391.

Cabral, C. (2020). How to have crucial conversations: The 7 steps. Shortform Books.

(n.d.). Cultural competence in health care: Is it important for people with chronic




conditions? Health Policy Institute. Georgetown University.

(n.d.). Cultural competence in health and human services. Center for Disease Control




and Prevention.

Furber, L. (2020). Preparing for difficult conversations. Healthcare Communication




Matters.

Glowiak, M. (2020). What is self-care and why is it important for you? Southern New




Hampshire University

Grenny, J. (2013). Coping with the loss of a loved one. Psychology Today.

https://www.wiley.com/enus/The+Corporate+Athlete%3A+How+to+Achieve+Maximal+




Performance+in+Business+and+Life-p-9780471353690

Niel, & Steinmann. (2017). Crucial mentoring conversations: Guiding & leading. KR




Publishing.

Porter, J. (2021). Using difficult conversations to provide better healthcare. Journal of




Emergency Medical Services.

Self-care interventions for health (who.int)