Hospice Care Consultants are an Extension of Your Team
By Seasons | August 18, 2021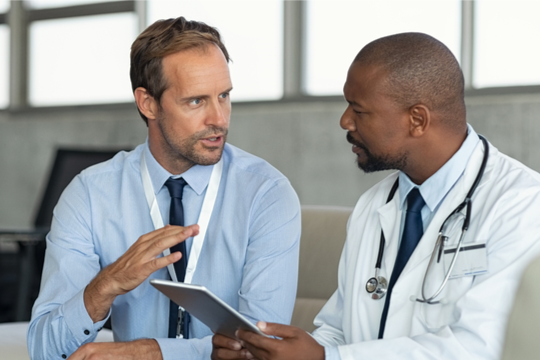 Five ways to leverage hospice care consultants for your ease and the comfort of your patients.
Hospice care is provided by an interdisciplinary team that focuses on the clinical, psychosocial, and spiritual needs of the patient and their family. It consists of registered nurses, physicians, social workers, chaplains, aides, and others. Together, this team works to provide a wholly unique and holistic care model for those under their care.
As a healthcare professional or community partner who provides care and/or support for members of your community, an additional member of the hospice team is here to support you: the Hospice Care Consultant (HCC). These team members help healthcare professionals connect care experiences, provide education, and help ensure a smooth transition to hospice for patients and their families.
5 Ways to Leverage your Hospice Care Consultant to Enhance Your Practice and Support your Patients
Coordinate Patient Care


Hospice Care Consultants are there to be a bridge between you and those you've referred or who are in your facility or care. They can provide you with status updates, changes in level of hospice care, and alert you to patient and family dynamics that may arise. HCCs regularly attend interdisciplinary team meetings and can notify you when a patient is eminent or has died so you can send condolences to the family. They can also help with service recovery when expectations may not be fully aligned.


Education of Patients and Families
While understanding of hospice and acceptance of the hospice model of care is on the rise, many patients and families still have little knowledge of what hospice is or may even have misconceptions about what the Medicare Hospice Benefit provides.

In these cases, your Hospice Care Consultant can be called in to help provide education, dispel myths (is hospice a place you go to die? Is hospice only for the last few days of life?), and facilitate a sign-on process to ensure informed consent.

Many healthcare professionals also have a level of discomfort in broaching the subject of hospice with a patient, even if they know that the individual is eligible for hospice care and may only have months or weeks to live. In these cases, hospice care consultants, many of whom have social work or nursing backgrounds, can step in with their wealth of experience and put the patient and family at ease while explaining the benefits of moving to the comfort care hospice provides. This can free up your time and share the burden of difficult conversations.

Help to Start Care in Hours, not Days
HCCs are there to support the hospice admissions team in collecting information needed to determine and support eligibility for a patient. They can also help develop a narrative that will inform an initial plan of care, and give the interdisciplinary team advance notice about likely needs such as immediate pain management, medical equipment needed, or complex family dynamics that may require additional support.

For the busy healthcare professional, HCCs can collect needed information, allowing the professional to focus on patients and not coordinating paperwork.


HCCs Know Somebody who Knows Somebody
It's a Hospice Care Consultant's job to know their community. If you have a patient that needs help discharging from the hospital, your HCC may know of a facility with capacity. If a patient may be eligible for certain state or military benefits, your HCC can help connect you to people who can navigate applications.

HCCs are there to be the professional extension of a hospice practice, and helping partners along the continuum is all part of the job. If they don't know someone, they know who knows.


HCCs can Provide Extensive Education


Hospice Care Consultants bring a wide breadth of knowledge about hospice and palliative care which they can use to help support your professional development, including:
When it comes to guiding your patients or residents through an end of life experience, your Hospice Care Consultant is there to support you via resources, expertise, and their time.