National Health Care Decisions Day
By AccentCare | April 13, 2022
National Health Care Decisions Day is April 16. Testimony to the adage that "nothing in this life is certain but death and taxes, perhaps? April 16 is reserved to inspire, empower and educate people on the importance of Advance Care Planning for you, and your loved ones.
The Advance Care Planning process is a one of reflection around quality of life in the event something tragic or life-threatening happens. It is a "what if" plan completed in advance of any clinical circumstance. Your plan should also include "who" might communicate your decisions in the event you lose capacity to do so. The challenge with Advance Care Planning, and Advance Directives, is that they don't have associated context to support real-time health care decision-making. This context only comes with time, new or worsened conditions and diagnoses, and personal growth and development.
Advance Care Planning has come a long way, even receiving some regulation around it in the Patient Self-Determination Act (PSDA) in 1991. Did you know that the PSDA requires hospitals, nursing homes, home health agencies, hospice providers, health maintenance organizations (HMOs), and other health care institutions to provide information about Advance Directives to adult patients upon their admission to receive care? It also requires that these organizations inquire about the content of Advance Directives so they may consider, and apply them to your plan of care, as needed.
So, when a health care provider asks you if you have an Advance Directive, be prepared for them to follow up with these additional questions – Where is it? Can you share a copy of it for our records? Can you share more about the preferences you've documented? How long ago did you complete it? Is it still representative of what matters most to you? These questions are important because you or your family member may be in a different place in your life, or your clinical circumstances may have changed since completing the documents.
Consider this graphic and timeline from general wellness through end-of-life: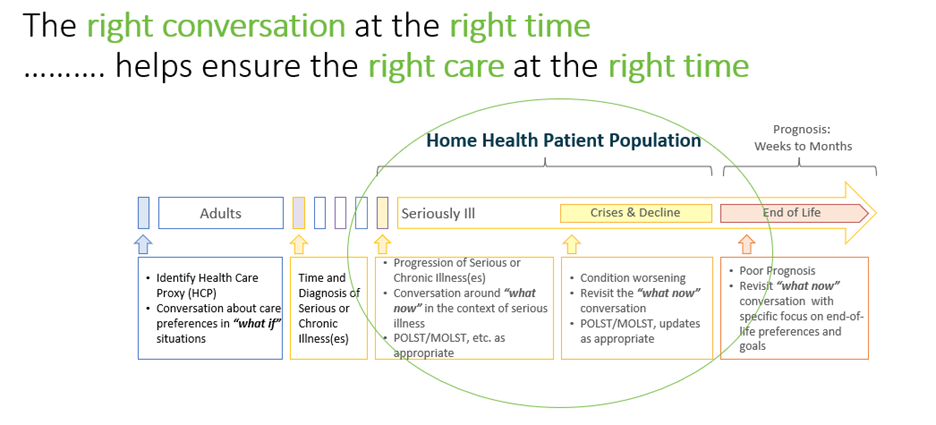 For this reason, there's growing controversy over if/how Advance Care Planning is helpful or relevant for seriously ill individuals. For example, does the plan you completed several years ago, before you got sick still fit with your current needs and goals? Don't be afraid to lean in to your health care team to create the best plan for you. They can help facilitate the "what now" planning, because any additional context may be crucial for you or your loved one to consider as decisions are being made about future care planning.
So, on April 16, if you haven't done so already, have your own personal, reflective conversations about what matters most to you and your "what if" decisions. And encourage those you care about to do the same. For more information and resources to help with Advance Care Planning, check out National Healthcare Decisions Day 2022 (johnahartford.org) or The Conversation Project - National Healthcare Decisions Day — April 16 for some great tools and tips.