What a Risk-bearing Entity Should Expect from Their Hospice Partner
By AccentCare | January 11, 2021
Hospices can coordinate care at lower costs- learn the big 4 care events that a hospice partner should communicate to you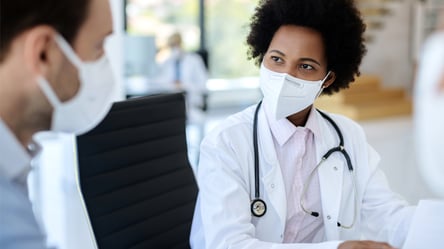 Whether you're a Managed Care Organization, Accountable Care Organization, gearing up to be a Direct Contracting Entity, or another type of delegated risk provider, communication is key to coordinated and accountable care.
While claims data is a valuable source of understanding where covered beneficiaries are getting care, it can be delayed by weeks or more. Physicians and others in risk-bearing healthcare programs need real-time insights for their beneficiaries to coordinate care, manage costs, and increase quality.
For those with a terminal illness, hospice can provide much higher quality care that saves Medicare money across a variety of lengths of stay. By keeping patients at home where they want to be, it can help avoid hospitalizations while providing comfort and coordinated interdisciplinary care.
Coordinating global care for a dying patient both inside and outside of the Medicare Hospice Benefit is key to meeting shared savings goals and benchmarks as well increasing quality.
What information should a risk-bearing entity expect for their hospice patients, and what does each mean for them?
When it comes to end of life care, there are four key notifications an ACO or other risk-sharing provider should expect from their hospice partner:
Election of hospice services
Level of care changes
Eligibility recertifications
Deaths and live discharges
Because hospice is an ongoing benefit and not a one-time visit or procedure, the four events above can help physicians and care coordinators track how a patient is doing more regularly than with claims data after the fact. Tracking these notifications can help a risk-bearing entity avoid unneeded expenses or procedures for their patients and take an active care management role alongside the hospice team.
Election of hospice services: A Medicare patient typically enrolls in the Medicare hospice benefit when:
Two physicians certify that the patient has six months or less to live if their disease runs its normal course.

The patient or their medical power of attorney (MPOA) gives their informed consent to pursue hospice care with a Medicare-certified hospice agency.

What it means for a risk-bearing entity: when a patient enrolls in hospice, they forego curative measures or procedures. The hospice should cover all mandated services and needs related to the patient's terminal prognosis in accordance with the patient's individualized plan of care. Hospices will do medication reconciliation and drawdown, work to provide pain management, and support the patient via the professionals on the interdisciplinary team. ACO's, MCO's, DCE's, and others should know that this may mean a decrease in hospitalizations, ER visits, and claims outside the hospice benefit per diem.
Level of Care Changes: There are four levels of hospice care designed to meet the needs of the patient and their family along their hospice journey. They are: routine, respite, general inpatient, and continuous.
What it means for a risk-bearing entity: Each level has ongoing eligibility criteria and usage requirements, but a change from one level to another may be good for a risk-bearing clinical partner to be aware of. For example, a patient may be experiencing uncontrolled pain or symptoms which could require the general inpatient or continuous care levels to be utilized. These levels provide appropriate support to patients until their symptoms are managed and may (but not necessarily) portend that a patient is nearing death or may need support or coordination from outside the Medicare hospice benefit.
Eligibility recertifications: Because end of life prognostication is not exact, Medicare provides for an unlimited number of benefit periods for hospice care. As noted above, two physicians must certify that the patient has less than six months to live. However, it is not uncommon for some patients to live longer than six months. Because of this, patients must be recertified after their first 180 days on hospice and then every 90 days thereafter. Recertifications require a face-to-face visit and documentation by a hospice physician or nurse practitioner certifying that the patient still has less than six months to live.
What it means for a risk-bearing entity: recertifications are good check-in points to understand the ongoing prognosis for risk-bearing clinicians and their organizations. The eligibility certifications contain information about the status of the patient and can give insights into care needs that they may need to be aware of.
Deaths and Live Discharges: Patient deaths are important to note for risk-bearing entities. From a quality of care and 'bedside manner' perspective, it can also help clinicians avoid uncomfortable situations such as unknowingly calling to check in on a patient who has died or conversely allow them to reach out and appropriately express condolences. Knowing a patient has died can help with the cessation of ongoing or recurring care claims for a patient that aren't related to their terminal prognosis.
Live discharges from hospice can happen for a variety of reasons- for example the patient's health may have improved to the point that they are no longer be eligible for hospice or may have moved out of the service area of a hospice provider. The patient may also have had a change of heart and elected to pursue curative care through their Medicare benefits.
What it means for a risk-bearing entity: deaths and discharges are critical to track from a risk bearing perspective. If the patient has died, health service charges should be monitored closely to ensure claims are accurate. If a patient has been discharged alive, their healthcare utilization patterns may change and increase, warranting extra attention from the ACO/MCO/DCE care management or primary care team.

How should an ACO/MCO/DCE expect to receive these updates from their hospice partner?
As hospices evolve, they're working to meet these communication needs from their risk-bearing partners. A clinician or administrator from an ACO or other provider could expect to see these updates in a variety of ways. Examples might include:
Real-time updates for each patient as one of these 4 key events happen, communicated to the primary care team for the patient

Weekly spreadsheets or templates with any beneficiaries in a providers' patient pool (once beneficiaries are proactively identified via MBI numbers, Physician ID's, or other unique identification methods)

Presence by the risk-bearing provider at the weekly hospice interdisciplinary team meeting (following HIPAA guidelines for other patients not associated with the risk-bearing entity)
The format can be flexible depending on the capabilities of the hospice and the requirements of the risk-bearing entity. The important part is to develop a relationship based in patient-focused and coordinated care to ensure that some of the most vulnerable covered lives get the care they need while working to provide overall value-based care for Medicare and other payors.