Six Months Into COVID-19
By AccentCare | October 01, 2020
How can hospice help you, and what makes a good partnership?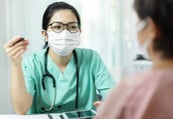 Remember when we all hoped that COVID-19 would be a 2-3-month affair and that by the summer of 2020 life would be much closer to normal? Those crazy days of March and April seem so long ago now. As we settle into an understanding that COVID-19 is likely to impact the United States well into 2021, it's important to know how hospice can support your practice, facility, or hospital:
Keeping patients home and out of high-risk settings. Hospices can work to manage symptoms and provide comfort wherever the patient considers home, lowering the risk of contracting COVID-19 and freeing up space for those patients who need acute care.

Developing robust protocols for screening, PPE usage, and testing. Nursing homes, assisted living facilities, and hospitals are all scrambling to ensure their patients and residents are safe. Hospices like Seasons have also worked to develop robust protocols for PPE usage and comply with local and facility-specific testing requirements. Seasons has also built and instituted a custom screening app that our field staff and others use every day to verify they are not exhibiting the signs and symptoms of COVID-19.

Grief and bereavement needs have ballooned, and hospices are stepping up to serve this new need. Seasons Hospice & Palliative Care and many other hospices have expanded our bereavement support extensively during the pandemic. Hospices are experts in providing bereavement care- the Medicare benefit requires hospices to provide 12 months of support to the families of loved ones. During COVID-19, we have created virtual/internet-based support groups for our entire communities to meet the need of supporting everyone through the stress of coronavirus. The volume of bereavement care provided by Seasons has increased by more than 50% during the pandemic.

Finding new rituals for closure and mourning loss. What does a funeral service look like in a time of COVID? How can we lay our loved ones to rest when social distancing? The patient experience teams at hospices are guiding communities through these changes via events like live-streamed butterfly releases and memorial events.

Robust telehealth visit implementation. Hospices have been granted a waiver during the pandemic to provide care where necessary via telehealth. By working with our partners, we can still provide care when seeing a patient face to face may not be possible. Seasons also has a US-based after-hours call center staffed with licensed RN's, so patients can get virtual care 24/7 in addition to their in-person care team visits.

Extensive trainings and CE courses on resiliency, working with families who challenge us, the clinical path of COVID-19, and others. Hospices are required to provide education to our partners on end of life issues, and AccentCare offers a variety of courses for continuing education.
Partnering With Your Hospice Team
At the same time, there are ways to partner with your hospice teams so that your patients can receive the care they need while limiting infection risk. Hospice is an interdisciplinary model of healthcare that relies on frequent visits and check-ins to patients to be successful. During the pandemic, hospices and their continuum partners have had to adapt to keep providing compliant care that comforts and supports those who are dying. Here are a few simple ways hospice providers like Seasons can partner to ensure patients are getting what they need:
Help to be our eyes and ears: The hospice assessment is the basis for the entire plan of care. Effective symptom management, training and support of caregivers, identifying at-risk or crisis-prone patients, all start with a robust head to toe assessment. If a facility is in lockdown and a hospice team member has to use a televisit with a patient, the help of those healthcare workers in the facility is invaluable. Hospices document the overall decline of our patients over time, and there are often signs of this decline that can be difficult to discern through an iPad alone. Telling your hospice partners what you're seeing helps us provide the best care possible, even from a distance.

Whenever possible, help support your patients by letting your hospice team in to provide direct care for patients. Every situation is different, and hospitals and facilities can and should have robust infection control policies in place to ensure the minimization of risk for everyone. However, with teamwork and proper precautions, allowing hospices in to provide direct care and oversight will lead to better outcomes for patients and a more peaceful, coordinated end-of-life experience. Just like our partners, hospices are working overtime to comply with all infection control measures and PPE usage requirements. If you have a question about how we're working to keep patients, families, and staff safe, you can always reach out to your local team or hospice care consultant.

If you have a patient that you believe to be hospice-eligible, let your partners know! Hospice care isn't something that can be delayed until COVID-19 is over. Over half of all Medicare beneficiary deaths now happen on hospice care. Those patients and their families can still safely benefit from the comfort and support of hospice.
Ultimately, we'll all be relieved when COVID-19 is behind us. However, as the nation braces for an upcoming flu season and waits for a safe COVID-19 vaccine, hospices are here to continue to offer support and partnership in providing excellent and compliant patient care.