The Storm Lake Blading Queen
By Seasons | August 28, 2017
A conversation overheard at a Maryland assisted living home: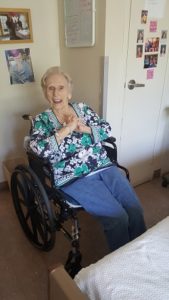 "Jennifer! Hey, Jen! Have a good lunch!"

"Yeah, Jennifer, you too! See ya this afternoon!"

No, it's not a coincidence that you're overhearing in that conversation.

It's actually a joke and one that one the staff are used to hearing and giggle when they do. That's because neither one of these patients is named Jennifer. In fact, one of them is named Betty, and she is one of our beloved Seasons Patients.


Betty has chronic heart disease and is often confused because of her dementia.But the name game isn't due to that. It's a running joke between Betty and her roommate, one they've been carrying on ever since they started bunking together. No one knows how it got started or where the name-game came from, but our Betty has everyone in on it. It's just another example of her playful spirit that our Seasons employees have come to love and look forward to every time they see her.

"'Whatcha been up to?! Well how about that?' There's some key phrases we've just come to expect when we stop by her room, and we love it. We've started calling them "Betty's Buzzwords." You just can't help but break out in a grin when you hear her saying them from all the way down the hall," said Dorian, one of our Seasons music therapists.

From the moment you enter her always-sunny room, you're greeted with love. Not just from Betty herself, but you see it in the smiling faces of her family and friends, whose pictures are plastered up and down the walls of her room.
When you visit Betty, you'd better pull up a chair, because you're not leaving without hearing a story or singing a song with her.
"She loves to talk, loves hymns and folksy music. Betty is always smiling, and she's most certainly going to want you to sing 'You are My Sunshine' with her," said Dorian.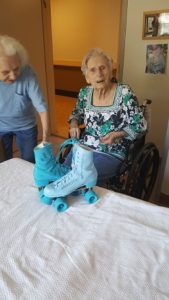 But her favorite thing to do: talk about her past!
Growing up in Iowa, Betty was a vivacious child, the only girl out of her five siblings. So of course, she had to do whatever the boys were doing, except better. And one of the things she did best of all: roller skate. She was on eight wheels every day after school.
"Her eyes just light up when she tells us about Storm Lake, the town where she spent her summers. She'll tell us all about how they'd go swimming and dancing there, but the real fire in her eyes comes when she talks about roller skating," said Dorian.
"Around and around and around…" There's always a nostalgic, far-away look in Betty's eyes when she uses this "Betty Buzzword." Dorian and social worker Jillian noticed that look and wanted to do something special for Betty.
First, they looked up old pictures of Storm Lake on the internet and showed her.
"How did you know? How did you find Storm Lake?" Betty asked them both, with tears in her eyes.
Seeing how much this meant to her, Dorian and Jillian decided to take their service for Betty a step further.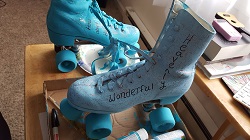 They reached out to the Seasons team and found a nurse, Rhonda, who was more than willing to donate a pair of roller skates. Betty brings so much joy to our staff, they were thrilled to work on a project that would help her experience that same joy.
"Who knows the last time she actually was able to hold a pair of skates? Instead of just talking about it, we wanted her to have a way to literally hold on to those memories," said Jillian.
Dorian painted the skates blue, Betty's favorite color, but they added a little 'Betty sparkle'-literally, spraying the skates with gold and silver glitter. The finishing touch? Adorning the skates with all of Betty's buzzwords: "Heavenly, Wonderful, Going Around and Around, Whatcha Doing?!"
When she finally saw the final product, Betty was THRILLED. She could not contain her excitement, squealing when she saw the beautiful blue skates.
"Can I put them on? I want to get up and skate! Just like the good old days!" said Betty, hugging them tightly to her chest.
Weeks later, those skates are now proudly displayed for all to see in Betty's room, fitting right in with the memories that were already there.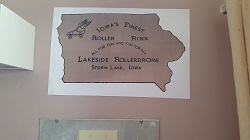 Betty's family saw how much she loved the skates and printed out a sign reminiscent of the one that was originally hanging in Storm Lake. Hours of work went into creating all of this as memory for Betty, with hopes that it will later be a legacy for her family and that was confirmation for us that those skates will forever be a memory. Dorian and Jillian said they'd do it again in a heartbeat, because simply put, they just love Betty that much.
"I visit her as much as my schedule allows, I would visit her every single day if I could. She is just such a joy; it truly is an honor to be able to care for her," said Dorian.
Betty, thanks for being one of the many patients who help us here at Seasons feel like we receive just as much, if not more, than we are able to provide.
Keep on skating!