Cultural Considerations for Supporting Hispanic/LatinX Patients at the End of Life
By Seasons | October 01, 2021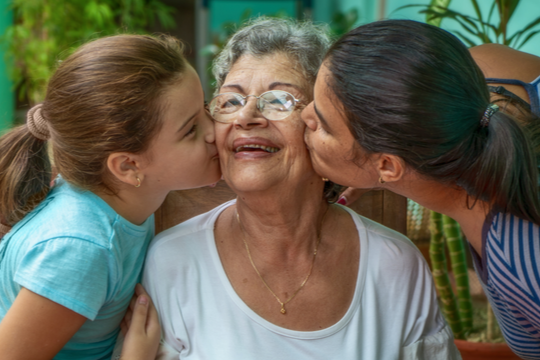 Since 1988, as a nation we've taken September 15 to October 15 to observe Hispanic Heritage Month. While we take this time to celebrate and learn more about the Hispanic heritage, it's important to take note of the barriers that Hispanic and LatinX individuals may face in regards to receiving equitable healthcare.
As of 2017, only 6.4% of hospice Medicare patients identified as Hispanic1, while this population made up over 17% of the country's population in the same year.2 To work towards overcoming inequities in healthcare, it's essential to understand what these barriers are. When we understand the cultural background and values of those we serve, the end-of-life care we provide can fully honor the legacy, identity, and background of our patients.
Understanding Significant Barriers
Potential language barriers.

One of the greatest barriers to receiving care is that the Spanish translation of "hospice" is "hospicio," a word often associated with poverty, asylum, and abandonment. When you use Google translate to translate hospice, "hospicio" is what comes up. Using this word leads to the potential rejection of hospice service without individuals even truly comprehending what they are. A different option to consider using when talking with someone about hospice is "servicios de hospice," as this invites individuals to think about it differently.




Lack of knowledge about what hospice is and what services are available.

Many Hispanic or LatinX people don't understand what hospice entails. They may think that it's "giving up" or expensive. One 2010 study found that while most white caregivers who participated in the study were familiar with hospice at the time that it became an option, many in the Latin community

were not aware of what hospice was until confronted with an immediate decision.

3
Underutilization of Advance Care Planning

. Advance care planning gives patients and families the chance to examine and select from all the options before being faced with a pressing medical decision. Medical professionals are less likely to have conversations about end-of-life decisions with Hispanic people than they are white non-Hispanic people, which leads to more last-minute decision making and dissatisfaction with outcomes.

4
Learning About the Values of Your Hispanic & LatinX Patients
Each individual and family have their own set of values and norms, and it's always best to ask about the preferences of any person, family or group. However, it may be helpful to understand some traditional norms for Hispanic/LatinX people. Perhaps the most important thing to understand is the role of family in the patient experience. Familismo is a central Latin cultural value. It involves dedication, commitment, and loyalty to one's family. When this value is central, family is the highest priority and everything else, including work, is secondary. Regularly spending time with one's immediate AND extended family is part of familismo, and members of the extended family network are often just as important as members of the nuclear family. Individuals feel a strong sense of obligation to this tight-knit group of people that have provided them continuing support and are extremely dedicated to them.
Medical decisions are almost always made as a group, which which is critical for healthcare providers to anticipate when working to align goals and determine care plans. When families of Hispanic patients are hospitalized, the whole family often comes to visit. Another key value, respeto, places great social worth and bestows ultimate decision-making power on authority figures such as parents, leaders, elders and physicians. Out of a sense of respeto, many tend to avoid disagreeing or expressing doubts to a person in authority.
Making A Difference Is A Team Effort
You can help make a difference for the patients and the families you interact with each day by taking the time to learn about their preferences and perspectives. To continue to break down barriers, you can dialogue with your colleagues and share resources about how best to serve different populations. Below are a few ways that you and your colleagues can continue to educate yourself about how to provide the best care to the patients and families you serve. These resources and education materials are appropriate for any healthcare professional to utilize.
Cultural Humility Chart

:

This resource lists questions that you can ask your patients and families to facilitate respectful and culturally sensitive conversations about end-of-life issues.

CE/CME Course:

"Cultural Considerations for Supporting Hispanic/LatinX Patients at the End of Life."

This free course is open to all. RNs, MDs, NPs, PAs, social workers, and long term care administrators can view to earn continuing education credit.

Understand nomenclature.

Ensure your staff understand the

differences between names

and ask their patients and families how they would like to be referred to. Depending on their original country of origin, families may prefer to be referred to as Hispanic, Latino/Latina, LatinX, or a more regionally-specific name (i.e. Mexican or Brazilian).



References:
2. Hispanic Map of the United States 2017
3. The Worst Thing About Hospice Is That They Talk About Death": Contrasting Hospice Decisions and Experience among Immigrant Central and South American Latinos to US-born White, Non-Latino Cancer Caregivers
4. Advance Directive Discussions: Lost in Translation or Lost Opportunities?
5. National Hospice and Palliative Care Organization
6. Centers for Medicare and Medicaid Services
7. Kubler-Ross, Elisabeth MD. (1997) On Death and Dying. Scribner's, NY