Healthcare Quality is all About the Right Sticks and Carrots
By Seasons | October 12, 2021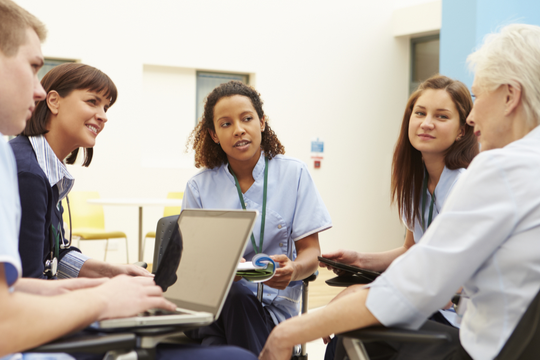 The old story that the best way to make a donkey move is to put a carrot out in front of it and jab it with a stick from behind can be a helpful way to think about the techniques healthcare systems and payors use to push organizations to invest in quality.
The combination of rewards and penalties is designed to ensure that healthcare entities achieve the established quality domains of safe, effective, patient centered, timely, efficient and equitable care.
Healthcare organizations are becoming increasingly familiar with payments tied to quality measures serving either as a carrot or as a jab with a stick. In the new reality of regulatory scrutiny and value-based payment systems, how do you build a culture of continuous quality improvement that produces the best patient outcomes and results in optimal reimbursement? Let's take a few minutes to look at some hospice-proven leadership practices that use these principles of reinforcement to guide a team to success.

Effective Quality Programs Start with Leadership…
It may be obvious that building a culture of quality requires leadership, but in practice this concept isn't always implemented effectively. The tone leaders set for their teams starts with establishing reliable processes for transparent communication. That clear, accessible and standardized process helps to empower front line workers to identify issues and bring solutions forward.
It is the leader's job to show through their words and actions that the following issues and tasks are important:
Holding Adverse Event Deep Dive meetings
Root Cause Analysis sessions
Quality Action Plan discussions
Holding space for these and not letting them get brushed aside by the rush of day-to-day operations can create a formal place/process to more deeply engage your workforce and demonstrate commitment to quality. Leading your team to escalate problems, understand process challenges, and solidify their commitment to chosen solutions is crucial to achieving quality in your program.
Discussions should include a review of both good outcomes and less than desirable outcomes to find the processes, training, and systems that build sustainable, reliable results. The best solutions are those that simultaneously improve the employee's work-life and efficiency, clinical outcomes, and ensure patient safety. When frontline staff get to participate in problem identification, solution finding, and ongoing monitoring/measurement, it can foster trust in their leaders and stimulate their investment in organizational goals – a carrot indeed!
… But it's also EVERYONE'S responsibility!
For a culture of quality to exist, quality must be everyone's responsibility. Building that kind of accountability across multiple departments takes consistency, common language, and shared objectives for quality at all layers of the organization. One way to achieve this is by opening all meetings with a quality focused narrative. For example: Begin dept meetings (including finance, IT, and marketing) with a review of top patient outcomes, results of current performance improvement projects, and established quality metrics.
Of course, celebrating good outcomes, best practices, and sustained improvement are a must to cement your culture of quality among employees and leaders. Using a common terminology and setting expectations for your team's priorities can help each department reframe their work and objectives in the context of quality which further contributes to the culture and demonstrates that everyone has a role in producing quality outcomes.
Individuals at all levels of the organization need the carrots AND the sticks
Lastly, for the quality culture to span the entire organization, leaders must create an environment that empowers personal accountability and responsibility. Every quality action workgroup should include the right people who together have the information, authority and support to perform an honest gap analysis between the ideal outcome and what actually happens. This robust, multi-department, multi-level gap analysis is the key to future solutions that will consistently move the organization towards excellence.
The powerful science of continuous improvement relies on an integrated approach of leadership, transparent communication using common language about quality, continuous monitoring, standardized processes, and managers who can model and mentor a commitment to change that engages everyone on the team and fosters individual accountability.
In closing, the following quote, attributed both to John Ruskin and to William Foster, emphasizes the ongoing individual work required to produce a culture of quality:
"Quality is never an accident; it is always the result of high intention, sincere effort, intelligent direction and skillful execution; it represents the wise choice of many alternatives."