Utilization of Hospice Can Save More than $6,000 Per Patient and Increase Quality Metrics
By AccentCare | July 13, 2021
Accountable Care Organizations, Managed Care Organizations, and other delegated risk providers know that spending on Medicare Beneficiaries in their last year of life accounts for about 25% of total Medicare expenses for those 65 and older (KFF).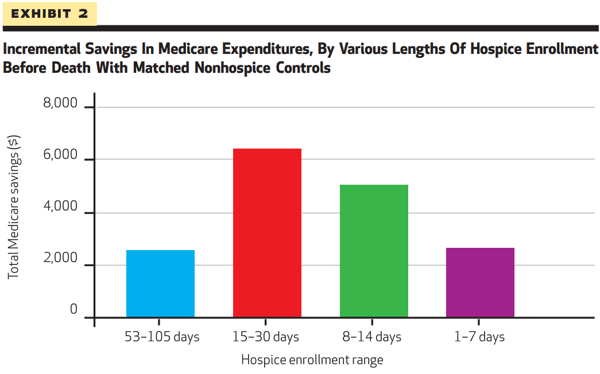 1: Health Affairs: Hospice Enrollment Saves Money For Medicare And Improves Care Quality Across A Number Of Different Lengths-Of-Stay
It's also probably common knowledge that futile care is most often delivered in an intensive care setting. Patients who:
use the emergency room as their source for primary care;
have complex comorbidities, or;
have no clear advance directives…
…have higher healthcare costs with poorer outcomes.
Delegated risk providers are searching for ways to help these patients achieve better outcomes at lower costs. If kept at home instead of cycling through the hospital for futile care, it can be easier to achieve savings goals and facilitate better-quality outcomes.
For Eligible Patients, Hospice Can Be the Answer
When an organization refers to hospice, they are referring their patient to a group of professionals who think like they do- how can we manage patients in a risk-based environment while providing appropriate higher-quality care?
In many ways, hospice is the original model for capitated, risk-based care in the United States. Hospices are paid a flat per-diem set of rates to provide person-centered interdisciplinary care that supports the physical, psycho-social, and spiritual needs of patients and their families. Hospices assume the risk and cover all conditions related to the terminal prognosis: pharmacy, durable medical equipment, and bereavement care for 12 months after death are all included the per diem.
The idea of hospice as a savings mechanism is borne out in a landmark Health Affairs study which found that when compared to matched non-hospice cohorts, hospice usage resulted in significant expenditure reductions across multiple lengths of stay. Specifically, hospice stays of:
1-7 days resulted in average savings of $2,651
8-14 days resulted in average savings of $5,040
15-30 days resulted in average savings of $6,430
53-105 days resulted in average savings of $2,561
The study also found significantly lower rates of hospital day usage for hospice versus non-hospice patients:
Last 105 days: 3.50 versus 12.50
Last 30 days: 1.60 versus 5.70
Last 14 days: 0.19 versus 4.36
Last 7 days: 0.29 versus 1.20
The study authors summarize that their findings "…suggest that investment in the Medicare hospice benefit translates into savings overall for the Medicare system."
Hospice Keeps Patients Home and Coordinates High-Quality Care
The Health Affairs study shows that hospice can be a critical component of a care management strategy, but it doesn't entirely show why. How does hospice care achieve these outcomes for patients as well as a meeting risk-bearing entities' goal?
Hospices are increasingly working with their accountable-care based partners: Forward-thinking hospices understand that risk-participating professionals like primary care physicians, remote case managers, patient advocates, and other clinicians want updates on:

hospice admissions
level of care changes
discharges
deaths

Hospices are working to build consistent communication channels to partners at managed care organizations and other delegated risk providers who share in the oversight and risk of caring for these most vulnerable patients. Hospices understand the global oversight risk-bearing entities want for their attributed lives.
Hospice isn't an episode of care, it is the care: Unlike fee-for-service or specialist visits, hospice providers care for patients day in and day out. Hospice interdisciplinary teams develop personal relationships over time and use that knowledge to care plan, reconcile medications, facilitate advance care plans, and educate on the nuances of Do Not Resuscitate orders.
Hospice cares for the whole person: The Medicare Hospice Benefit provides for a robust interdisciplinary team of social workers, chaplains, bereavement coordinators, music therapists, RN's, and physicians to ensure that not only are pain and symptoms managed, but that the patient and family have access to counseling, community social services, and grief support. Hospices consistently achieve significantly higher CAHPS scores than other post-acute providers.
Hospice is available to your patients 24/7: Some hospices have staff available by phone any time of the day or night, often with full access to an integrated electronic medical record. When a patient is experiencing an acute episode, they can call the hospice team to help adjust their medications instead of calling 911 and heading to the hospital.
Hospice Can Be a Successful Part of A Care Management Strategy
While not all patients will be eligible for hospice services, ACO's, MCO's, Direct Contracting Entities and other delegated risk providers can significantly reduce the expensive and sometimes-futile care that seriously ill patients receive in acute care settings near the end of life.
Appropriate use of hospice care for clinically eligible patients can be a core part of a strategy to manage global risk for a patient population, at higher quality. Hospice usage can keep patients from cycling through hospital or acute care settings, lower overall hospitalizations, and increase quality scores for pain management, care planning, family education, and psychosocial support.