Supporting Yourself, Your Team Members, and Your Patients and Residents During COVID-19
By AccentCare | January 11, 2021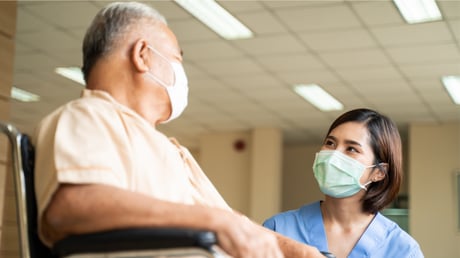 Caring for residents and patients is always important and meaningful work, but it can be exhausting at any time, let alone during a pandemic lasting months or even over a year. Whether you're feeling energized and ready for 2021 or like you're still reeling from last year and never had the chance to catch up, it's essential to make sure that you are supporting yourself so that you can continue making a difference in the lives of those you care for each day.
Caring for yourself needs to come f

irst
As a healthcare professional, you've probably heard the phrase 'self-care' a lot at this point. It may be frustrating to hear if you're struggling with your own stress and mental, emotional, or physical exhaustion, because it can seem like just another item to add to your to-do list. By breaking it down into a few steps, it becomes much more achievable.
Where do you start?
C

heck in

with yourself.

Burnout and compassion fatigue often creep up on us before we know it

, and taking a few times a week to identify your stress level can help.

Be Mindful.

Once you've identified that you have

an elevated

stress

level

that you

requires

manage

ment

,

start by finding moments throughout the day to be

mindful

.

It's

important to pay attention to the signals our emotions and thoughts are sending us.

You can learn to an

ti

cipate

signs that

you

need to take a break.

B

e Kind and Understanding To

Yourself

.

Ack

nowledge the stress you're feeling and all the elements that contributed to the situation. You're good at doing this for your residents and your team members – you can learn to do it for yourself too.

Take Small Steps.

Remember, taking care of yourself doesn't mean you need to develop a 20-step plan that you have to implement every day. You can

identify what helps you manage and decrease stress, such as taking a walk or doing a puzzle,

and then turn to those two or three things throughout the week

.
Check in With Your Teammates
When you are filling your own cup, you'll find that it helps you to then be able to more effectively fill the cup of those around you. Show patience and understanding to your colleagues, and ask them how they're doing before you see signs of stress. By acknowledging the loss of normalcy that is still occurring during COVID-19, we can be there for others who may be overwhelmed with stress but don't know if they should be still talking about it.
How Partnering with Hospice Can Help Your Residents
COVID-19 has turned everything upside down and your workday probably looks dramatically different. Between sanitization, paperwork, and having to provide care in a totally different type of way, healthcare facilities are reeling. At this point in time, you may have adjusted to the new normal, but have your residents? What has the effect been on them?
Chances are your residents feel more isolated than they ever have in their lives. For eligible patients, hospice can partner with you to complement your support. Below are just a few of the ways a hospice provider can assist you and your residents:
Services of Remembrance:

Memorial

services are helpful

ways

for residents and staff to meaningfully acknowledge death and celebrate the lives of residents who have died. If your facility is restricting visitors,

a hospice partner

can either lead these services virtually or just walk you through the process and provide you with all the materials.

Grief Groups

:

If you're not already

hosting

grief groups, they are a good option for residents to process their feelings – these can be done virtually too

, facilitated by

hospice

chaplains and social workers.

Many hospices have

create

d

a structure

that can serve residents, family members,

facility staff,

and caregivers.

Legacy

projects:

A legacy project is something tangible that is created to help a patient leave something lasting behind. They are meant to honor the passions and life of the dying patient

, and pass along a physical keepsake to the family

. Having something tangible can help decrease the complications of grief and stress

for

grieving families

.

A project can be as simple as a thumbprint necklace or a photograph of holding hands, or capturing a recording of the patient's heartbeat for the family to have.

Hospices

have all the materials and instructions – if

the staff

can't come inside,

many times they can

drop all the resources off for you!

Honoring

Veterans

:

Hospices

have been successful working with facility partners to coordinate virtual veteran ceremon

ies.

There are a variety of

resources

to support these events and your hospice partner can

, bring pins or items to honor veterans, and can lead the ceremony in person or virtually via phone or computer.



Caring for yourself, your teammates, and your residents or patients and their family members is a lot to juggle, and you're doing a great job. If you'd like to learn more about how Seasons Hospice & Palliative Care can assist with supporting you during the ongoing pandemic, please don't hesitate to reach out - we're just a phone call or email away.