Seasons Executive Director Creates Her Own Legacy Project
By Seasons | September 26, 2017
At Seasons, we live by the motto "Honoring Life, Offering Hope," and we see it every day in our employees and the care they give to our patients. We see examples every day that astound and amaze us.
One special example was seen recently in actions by the executive director of our Missouri site.
Seasons Missouri Executive Director Dawn Mullins, rode 140 miles in honor of both her father in law and our Veteran patients who have so fearlessly served our country.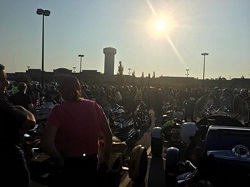 Dawn took part in the "Wall To Wall" event, aimed at bringing the honor that the Vietnam Memorial in D.C. has to a similar memorial being built in Perryville, MO. American and POW flags that were flown over the Vietnam Memorial in Washington were escorted to the memorial site known as the Missouri's National Veterans Memorial Park.
While hundreds of people took part in this journey, Dawn's mind was solely on her father in law who had ridden to the wall in D.C. with his friends in years past. He died of cancer and this was part of the legacy he left to his family. Seasons even created one of our memory bears out of the shirt he rode in.
Dawn wanted to honor his memory, but also ride for the

many veterans and their families she and our staff work with every day. Dawn knows firsthand the special care these men and women should receive, as she is a Veteran herself.
"So many of our patients that are Veterans have passed from complications/illnesses from their service. My father in law died from complications from suspected Agent Orange exposure. I rode in their memory, as we should never forget the sacrifices they made for our freedom," said Dawn.